Red panda missing: Rusty the panda is found
Red panda missing: A red panda that vanished from the National Zoo was found in a D.C. neighborhood.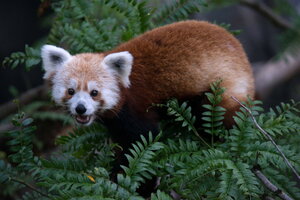 Abby Wood/Smithsonian's National Zoo/AP
The red panda that had gone rogue from The Smithsonian National Zoo has been found in a bush in Washington D.C.'s Adams Morgan neighborhood.
The once-lost animal, a male named Rusty, is just less than a year old and has been on exhibit at the zoo for just three weeks, after arriving from Nebraska in April. The precocious escapee had last been seen in his zoo pen Sunday evening and was not there Monday morning, at which time the zoo sounded a "Code Green" alert for a missing zoo animal.
Rusty was believed to be still within the zoo, keeping his summer vacation local and hiding in a tree, zoo staff said. It was considered reasonably unlikely that the red panda had high-tailed it toward the White House to express his thoughts on animal conservationism or skipped the country altogether to China, to holiday with friends there.
"It is most likely that he has not really left the vicinity. He would have to have some very strong motivation to leave the area," spokeswoman Pamela Baker-Masson told The Washington Post.
---