New Cambodian tailorbird is an unlikely bird, in an unlikely place
Scientists have discovered a new bird unique to Cambodia in the unlikeliest of places: the teeming capital.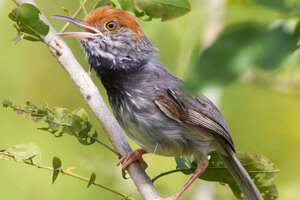 Ashish John/WCS
It's easy to get lost in the big city.
Scientists have discovered a new bird hiding in Cambodia's booming, urban capital.
Called the Cambodian tailorbird (Orthotomus chaktomuk), the previously undocumented bird was found in Phnom Penh, as well as at several locations, including a construction site, outside the teeming city. The name "chaktomuk" translates from Khmer to "four-faces," in reference to the three rivers – Tonle Sap, Mekong, and Bassac Rivers – that converge to divide Phnom Penh into four zones.
"The modern discovery of an un-described bird species within the limits of a large populous city – not to mention 30 minutes from my home – is extraordinary," said Simon Mahood, of the Wildlife Conservation Society. "The discovery indicates that new species of birds may still be found in familiar and unexpected locations."
Described in the Oriental Bird Club's journal Forktail, the small gray bird has an orange-topped head – like a baseball cap painted on and pulled low over its eyes – and a white and black throat. It was identified after Mahood began investigating an unidentified bird pictured in his co-author Ashish John's photographs taken at a construction site on the outskirts of Phnom Penh.
---