Pluto's craters could get Star Trek names
Even though 'Vulcan' has been rejected as the name of one of Pluto's recently discovered moons, an astronomer has left open the possibility of naming some of Pluto's geographical features after Star Trek characters.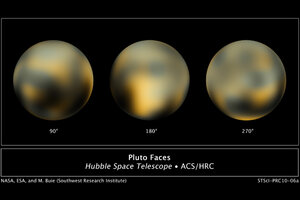 NASA, ESA, and M. Buie (Southwest Research Institute)
After delivering the devastating news to the 170,000 or so people who voted for "Vulcan" as a name for one of Pluto's recently discovered moons, SETI Institute planetary astronomer Mark Showalter offered Star Trek fans a possible consolation prize.
"We might have craters called Sulu and Spock and Kirk and McCoy and so on," said Dr. Showalter, in a Google Hangout video.
Showalter had just announced that the new official names for Pluto's moons, as selected by the International Astronomical Union, would be Kerberos and Styx, names that received fewer than 100,000 votes each in a public poll.
Even though "Vulcan" had the most votes, the IAU rejected it for two reasons. First, it had been the name of a planet that was thought in the 19th century to exist between Mercury and the sun, as a way of explaining peculiarities in Mercury's orbit. Einstein's Theory of General Relativity did away with the need for this extra planet, but these days, the term "Vulcanoid" describes an asteroid – also hypothetical – that orbits close to the sun.
---