Unexpected ally against future hurricanes: nature?
Natural defenses – coral reefs, mangrove and cypress forests, oyster beds, even sand dunes – can save lives and protect valuable oceanfront property by limiting the impact of storms like Sandy and Katrina.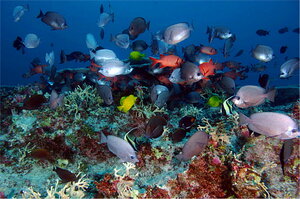 Louiz Rocha / Papahanaumokuakea Marine National Monument / AP / File
Mother Nature might provide the best defense against rising sea levels and ever-larger hurricane storm surges, says a new study published in this week's "Nature: Climate Change."
Coastal habitats – especially if left intact – can protect vulnerable oceanfront land and the people who live there, says author Katie Arkema, a Seattle-based marine ecologist with the Natural Capital Project.
"The waves break on coral reefs or coastal forests, and therefore lose energy," says Mary Ruckelshaus, who works with Dr. Arkema at the Natural Capital Project, a partnership among Stanford University, The Nature Conservancy, the World Wildlife Fund, and the University of Minnesota. This strips the waves of their power to erode land, flood buildings, and wreak the havoc seen after storms like Sandy and Katrina. Other coastal habitats, like dunes and seagrasses, work in different ways, but they all "diffuse the energy in the waves, and reduce how much they can erode the shoreline," she adds.
The research team found that, today, 16 percent of the US coastline – home to 1.3 million people, including 250,000 elderly people and 30,000 families below the poverty line, not to mention over $300 billion in residential property value – is in a "high hazard" area. The research team created the first-ever map showing a level of hazard risk for every square kilometer of shoreline.
"The places that are at high risk of hazards like flooding and erosion, from sea-level rise and storms, are also those places where there are a lot of people and a lot of coastal infrastructure," says Dr. Arkema. And while the most valuable property has the wealthiest people, there are miles of shoreline inhabited by some of the poorest in the country, she notes.
---