NASA terminates spacewalk following leak into astronaut's helmet
NASA aborted the walk about an hour into what was supposed to be a six-hour mission outside the International Space Station.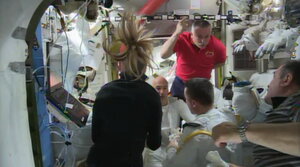 NASA/AP
A spacewalk outside the International Space Station was canceled on Tuesday, after more than a quart of "funny-tasting" water leaked into an astronaut's helmet.
The cause of the dangerous leak is still under investigation, NASA officials said at a press conference on Tuesday afternoon.
The spacewalk began ahead of schedule at 7:57 EDT Tuesday morning and began to go awry when Italian astronaut Luca Parmitano reported that his carbon dioxide sensor was malfunctioning. He then reported a water bubble burgeoning behind his head. His teammate, U.S. astronaut Chris Cassidy, assessed the situation and told mission control that between 1 and 1½ liters of water had begun to accumulate.
Since water in space forms globs, Parmitano could not hear, speak, or see as the water seeped into his helmet, NASA officials said.
NASA aborted the walk an hour and 32 minutes into the mission, and the pair re-boarded the ISS at 9:29 a.m. The trip outside had been scheduled to last 6 hours and 15 minutes.
"We have not seen a problem like this before," said Karina Eversley, a NASA spacewalk officer, at the conference, adding that drowning or choking was a real possibility had the mission not been quickly terminated. "This was a very serious issue."
She also said that Parmitano is in good condition: "Luca is doing great. He's smiling and happy."
The scheduled spacewalk was the second of two for the astronaut pair. They spent 6 hours and 7 minutes outside last week to make repairs on the station and to prepare it to dock with a Russian module. The astronauts had planned to finish the remaining work on today's walk.
---