Cassini Saturn photo: A view of Earth from 900 million miles away
Cassini Saturn photo: The images, from probes orbiting Mercury and Saturn, show Earth as a pale blue dot.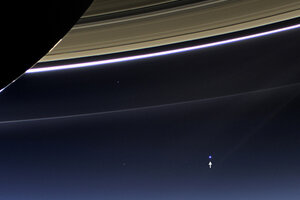 NASA/JPL-Caltech/Space Science Institute
Earth, home to some seven billion people and at least some 9 million species, looks lonely. Or at least, it does seen at a distance of some 900 million miles.
NASA has released color and black-and-white images taken from its Cassini and MESSENGER probes orbiting Saturn and Mercury. Those images show Earth as just a dot, lost in the solar system's gaping emptiness.
In the photographs from the Cassini spacecraft, Earth is seen from about 900 million miles afield, a bright blue dot just under Saturn's mammoth yellow-brown rings. The moon appears like a small star, a humble white stipple in the surrounding darkness.
And in the MESSENGER photos, Earth is pictured in a black-and-white image at a distance of about 61 million miles, from Mercury's orbit. In that photo, Earth looks like a sparkling star – a bulb of white light quietly announcing itself from space. Together, the Earth and the moon are less than a pixel in the photograph, but have been overexposed to bloom with light.
---