Remarkable diversity of life found in sea canyons off Northeast coast
The deep-sea canyons off the Northeast coast of the US are largely unexplored. A 36-day expedition currently under way is finding a rich trove of marine life.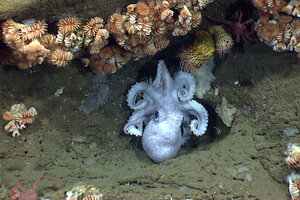 NOAA Okeanos Explorer Program/2013 Northeast US Canyons Expedition
Roughly 100 miles seaward of the beaches, boardwalks, and marinas along the Northeastern coast lie darkened canyons where corals and sponges cradle shark eggs, russet-red brittle stars wrap their arms around the white stalks of octocoral, and wide-eyed bobtail squid peer back at undersea cameras as if to say: Hey, you lookin' at me?
These are among the denizens scientists are finding during a project known as the 2013 Northeast US Canyons Expedition.
For all their proximity to some of the world's top marine research centers, the region's deep-sea canyons remain largely unexplored. The 36-day cruise, which began July 8, is designed to gathering images from 11 canyons and one seamount, as well as gather basic data on changes in seawater salinity and temperature with depth. The expedition is exploring these features at depths ranging from 500 to 2,200 meters (1,600 to 7,000 feet).
The goal is to provide an initial look at the canyons' inhabitants and form some initial ideas about how the canyons' ecosystems function, explains Tim Shank, a marine ecologist at the Woods Hole Oceanographic Institution in Woods Hole, Mass., and one of the lead scientists for the expedition.
The results would help set up a second generation of expeditions to understand these workings in greater detail – with an eye toward managing what is likely to be a vital marine resource, he says.
Expeditions exploring canyons in the western Pacific have shown that they harbor a rich mix of species and that corals and sponges in the canyons act as relatively safe nurseries for young fish, just as corals closer to the surface do. The expedition to canyons off the Northeast coast aim to find out if these undersea features play an equally important ecological role here.
---