What if plants could be plastic factories?
A Massachusetts-based company is genetically modifying switchgrass to produce a polymer used to make plastics.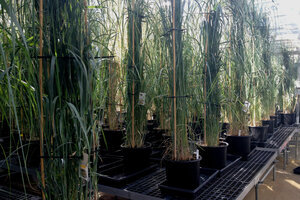 Elizabeth Barber
The greenhouse at Metabolix's lab is full of grass. That would be unexciting, except that the 300 or so pots of switchgrass growing here have been genetically engineered to produce a kind of polymer used to make plastics.
Metabolix, a bioplastics company founded in 1992, is one of a small group of companies and universities pushing at a new frontier in bioplastics: the genetic engineering of crops to produce plastics materials. The efforts – unique in making bioplastics not from, but in, crops – put forward a solution to the longstanding problem in bioplastics: how to make the production costs of bioplastics as cheap as, or cheaper than, oil-based plastics.
The answer, these scientists say, is in plants: What if crops, planted in droves in US farm fields, could become quiet, tiny plastics factories, churning out all the plastics we need?
But that, of course, raises another question: Is that even possible?
Bioplastics, simply put, are plastics made from renewable biomass resources as opposed to fossil fuels. Billed as a potentially cheaper and more sustainable alternative to conventional oil-produced plastics, bioplastics is a fledgling industry, and, so far, both eco-friendliness and cheapness have not been achieved in one product.
At the moment, bioplastics are often made from corn, a controversial wing of the industry, as studies have found that the fallout from the chemical use that goes into growing the corn outweighs the potential environmental benefits of using corn-based plastic. Other means of producing bioplastics, such as using bacteria to ferment sugars into polymers, remain more expensive than using fossil fuels, given the vast industrial infrastructure that supports conventional plastics-making.
In short, the big problem in bioplastics is much the same as it is throughout the entire bioindustrial field: eco-friendly, in the short term at least, is not cheap.
---