Fallout from the Russian fireball encircled Earth, research shows
The meteor that exploded near Chelyabinsk, Russia on February 15 created a mushroom cloud of microscopic dust grains that spread across the sky, encircling the planet within four days.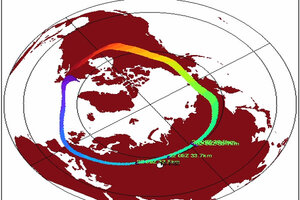 Courtesy of NASA/Goddard
Six months ago, Russians watched a massive fireball streak across the sky. The sperm-whale-sized asteroid exploded before it hit the ground, shaking the air and land with as much force as a 440-kiloton nuclear bomb and shattering into countless rocks, shards, grains, and dust-sized particles.
The heaviest of these quickly fell to the ground, leaving a 60-mile-long swath of debris that fell along the meteor's trajectory. But the smaller and lighter fragments rose up, mushroom-cloud style, till they were caught by high-altitude winds that carried them around the world. According to a paper recently accepted by Geophysical Research Letters, microscopic meteorite grains were blown first across the Russian skies, then across the Pacific to Alaska and Canada, then over the Atlantic, ultimately encircling the globe with a ring of space debris.
"After the meteor exploded, like a fireball from a nuclear explosion, the material lifted very high," says Paul Newman, an atmospheric physicist with NASA. "And then the winds – what we call the Polar-Night Jet – carried that material around the northern hemisphere very quickly, forming this belt of particles." It reached Alaska by the next day, and looped the planet within four days.
What goes up ... doesn't always come down?
It's not unusual for fine material to stay aloft. "Imagine you took a handful of flour and threw it across the room. The bigger particles in flour will fall out quickly, and the smaller particles will continue to float in the air," says Dr. Newman, who is the chief scientist for atmospheric sciences at NASA's Goddard Space Flight Center. (See "Play along at home," below.)
---