European hunter-gatherers domesticated pigs earlier than thought
A DNA analysis of remains unearthed at a Mesolithic site in norther Germany suggests that European hunter-gatherers owned pigs as early as 4600 BC, some 500 years earlier than previously thought.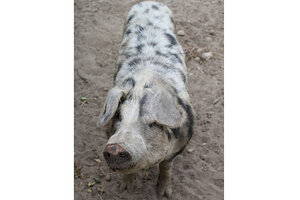 Ben Krause-Kyora
Ancient hunter-gatherers in Europe, whose meat intake was once limited to wild game, may have enjoyed bacon, ham, pork chops and other tasty bites from pigs they owned starting about 7,000 years ago, researchers say.
The new findings suggest these hunter-gatherers had domesticated pigs about 500 years earlier than previously thought, yielding new insights into the movements and interactions of prehistoric humans and the exchange of technologies and knowledge, scientists said.
The first humans in Europe were Neanderthals, an early human lineage that may have gone extinct there some 50,000 years ago. Their successors in Europe, modern humans, were hunter-gatherers that by the Mesolithic, or middle period of the Stone Age,were focused heavily on collecting and hunting wild game. [The 10 Biggest Mysteries of the First Humans]
Later on, incoming Neolithic or New Stone Age farmers who migrated to Europe from the south between 5500 B.C. and 4200 B.C. owned domestic plants and animals, such as sheep, goats, cattle and swine. Past research found that Mesolithic and Neolithic communities long co-existed.
Some communication apparently occurred between the Mesolithic hunter-gatherers and the Neolithic farmers, as suggested by pottery and other tool finds. However, the scale of the interaction and the extent to which hunter-gatherers took ideas from their neighbors remains hotly debated.
---