Moon mission: Can it solve the mystery of the glowing horizon?
LADEE (Lunar Atmosphere and Dust Environment Explorer) is set to launch Sept. 6 – NASA's third moon mission in four years. This time the focus is on the moon's atmosphere, a gap in recent exploratory efforts.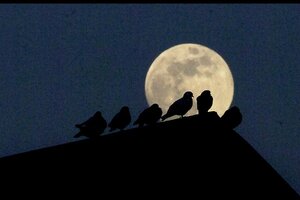 Dylan Slagle/Carrol County Times/AP
NASA is getting set to launch its third mission to the moon in four years – the last vestige of what was envisioned as a series of orbiters and robotic landers in advance of returning astronauts to the moon by the end of the decade.
Dubbed LADEE, for Lunar Atmosphere and Dust Environment Explorer, the $280 million mission aims to analyze a tenuous lunar atmosphere as well as to solve the mystery of the glowing horizon.
Horizon glow was detected by NASA's Surveyor landers in the mid- to late-1960s, as well as by astronauts during Apollo missions.
Surveyor landers recorded it as a thin band of light above the lunar surface along the moon's day-night line, or terminator. When Surveyor spotted the bands, they appeared to hover one or two meters above the surface, says Paul Spudis, a senior scientist at the Lunar and Planetary Institute in Houston.
Astronauts orbiting the moon, however, reported seeing streamers of light that extended hundreds of kilometers above the surface.
Light reflecting off suspended lunar dust is the lead explanation for the phenomenon. But when the Clementine orbiter hunted for the glow during its time at the moon in 1994, it detected nothing.
"One of the things LADEE wants to try to ascertain is: Is this really happening, or is this just somebody's imagination?" Dr. Spudis says.
LADEE is scheduled for launch Sept. 6 on a US Air Force Minotaur V rocket, a converted intercontinental ballistic missile. The mission marks the maiden flight for the five-stage rocket. Moreover, it will be the first deep-space mission ever launched from the Goddard Space Flight Center's Wallops Island launch facility, on the Virgina coast.
---