Pompeii of the East? Clues to mystery mega volcano that blew 7 centuries ago.
A volcano in Indonesia, Mt. Samalas, is now the leading suspect for an eruption that pumped more sulfur into the stratosphere than any in the past 7,000 years. Here's how scientists figured it out.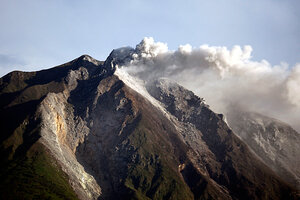 Binsar Bakkara/AP
Researchers now have a leading suspect for one of the largest volcanic eruptions in the past 11,700 years – a summit in Indonesia that blew its top in the mid-13th century, burying the capital of an island kingdom and bringing a cold, flood-filled summer to many parts of Europe.
The suspect: Mt. Samalas on the island of Lombok, Bali's nearest eastern neighbor. [Editor's note: The original version cited the wrong direction from Bali.]
Sometime between AD 1257 and 1258, the volcano exploded in three phases over two or three days. When the violence was over, the volcano had pumped the largest amount of sulfur into the stratosphere of any volcano in the past 7,000 years – some eight times the amount Krakatoa lofted in 1883 and twice the amount Mt. Tambora released in 1815.
Samalas's eruption also lofted the equivalent of 10 cubic miles of dense rock as much as 26 miles high, according to an international research team headed by Franck Lavigne, a volcanologist at the Pantheon-Sorbonne University in Paris.
The summit, which once soared to just over 13,700 feet above sea level, lost 1,600 feet as the mountain voided itself of its gas-laden magma. Much of that height was lost as the core of the mountain slumped into now-emptied magma chambers, forming an oblong crater up to 5 miles wide and 2,600 feet deep. Today, the crater hosts a horseshoe-shaped lake and a cinder cone on the central spit of land that gives shape to the lake.
"This is a major discovery," notes Haraldur Sigurdsson, a volcanologist at the University of Rhode Island's Graduate School of Oceanography, in Narragansett. Dr. Sigurdsson, who was not a member of Dr. Lavigne's team, has worked extensively in Indonesia, with a particular focus on Mt. Tambora.
This marks the third major eruption researchers have uncovered in recorded history, he writes in an e-mail. The roster also includes Mt. Tambora and the 1627 BC eruption of Santorini in the Aegean Sea.
---