How trees drinking gold can help the mining industry
A paper published in Nature Communications reports that trees sip up gold deposits below, a find that could help prospectors pinpoint the location of buried reserves.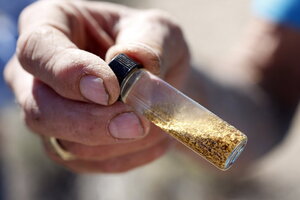 Leila Navidi/Las Vegas Sun/AP
It's not just the gods of antiquity who sloshed back cups of liquid gold. Trees drink gold, too.
A paper published this week in Nature Communications reports that gold crystals can be found in Eucalyptus trees growing above buried deposits of the mineral.
The report offers a tentative solution to a worldwide slump in new gold deposit discoveries, suggesting that, somewhat counterintuitively, an effective means of peering into the Earth is to look up – not to the gods, but to the trees.
Trees leaves filled with gold sapped up from below ground can help gold explorers "see what is buried beneath," says Mel Lintern, a researcher at the Commonwealth Scientific and Industrial Research Organization in Australia and the lead author on the paper.
"The work will enable mineral explorers to cover more ground with a limited amount of funds," he said.
Prospectors have known for decades that aboveground brush and trees are at times proverbial X's marking the spots of brimming mineral deposits below – not just gold, but copper and silver, too. At times, mineral explorers had used this treasure-laced foliage to uncover buried reserves.
Still, the method, called biogeochemical analysis, had failed to become mainstream, in large part because it had been unclear if the auric leaves were reliable indicators of gold below or just red (or, rather, gold) herrings: sure, it was possible that the gold been sipped up from buried troves. But it was just as possible that it had been ferried there from elsewhere, settling in the trees' leaves as glittering dupery.
Even over the last decade, as scientists had begun to proffer proof that trees do, in fact, drink gold, the exploration technique had not caught on in the prospecting world, says Dr. Lintern. Since most greenhouse and lab studies used higher quantities of gold than occur in the natural process, prospectors had lacked confidence that the method was applicable to the field, he said. And no previous research had identified gold crystals collecting in free-growing trees out in the field, he said.
---