Amateur astronomers track the US Air Force's top secret X-37B space plane
(Read article summary)
Launched by the US Air Force on April 22 from Cape Canaveral, the top-secret X-37B space plane has been spotted, photographed, and tracked by amateur satellite watchers.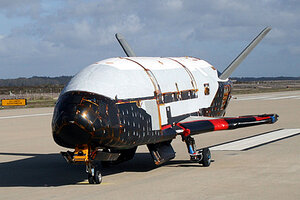 US Air Force/AP/File
A new top secret spaceplane has been located and tracked by amateur skywatchers as it begins its surveillance mission for the Pentagon. The unmanned mini-shuttle, called X-37B, was launched by the US Air Force on April 22 from Cape Canaveral, Florida.
Built by Boeing and hidden within an Atlas V rocket, it had taken a decade to develop. It was said to combine the agility of an airplane with the speed of a spacecraft.
Nothing was revealed about the spaceplane's purpose or flightpath. But just a month after its launch, it has been found and photographed, Spaceweather.com reports today.
IN PICTURES: The X-37 space plane
The observations show that X-37B is in a low orbit that can carry it over the world's major flashpoints including Iran, Pakistan and North Korea.
The spaceplane was spotted independently, moving like a bright star, by amateur satellite watchers Greg Roberts of Cape Town, South Africa, and Kevin Fetter of Brockville, Canada, on May 20. Their measurements allowed another enthusiast, Ted Molczan, of Toronto to calculate the craft's actual orbit.
---