Test of scramjet-powered X-51A engine [VIDEO]
(Read article summary)
The US Air Force's experimental X-51A Waverider scramjet has set a new record for hypersonic travel.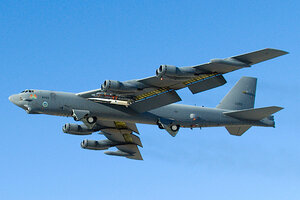 Mike CassidyUS Air Force/AP
Boeing and the US Air Force tested a supersonic combustion ramjet engine on May 26 with the longest hypersonic flight in history. The X-51A WaveRider was dropped from a B-52 and flew for nearly three and a half minutes, flying at five times the speed of sound – Mach 5. The unmanned aerial vehicle was tested off the southern California coast around 10 a.m. on May 26, and it flew autonomously for more than 200 seconds, but then something then occurred that caused the vehicle to lose acceleration. But the teams who worked on the project are still calling the test a success.

"The technology proven today is something The Boeing Company has worked on for the past seven years," said Alex Lopez, vice president of Advanced Network & Space Systems, a division of Boeing Phantom Works. "It is thrilling to be a part of history and advance hypersonic science to the next level. Boeing is looking forward to transitioning the technology to operation in the near term, but for now, we are exhilarated."
---