COLBERT treadmill? NASA tips visor to Colbert Nation's vote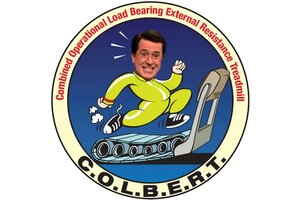 NASA
The gravitas of the International Space Station is safe. The last US node, scheduled for launch in February 2010, will be called Tranquility, not Colbert.
The name honors the Apollo 11 landing site. But it's appropriate for other reasons.
Among its amenities, the node sports a viewing port for contemplating the meaning of life, the universe, and everything as stunning views of the Earth pan by. (For those impatient for the answer to LU&E, it's 42.)
And the node will host, among other "utilities," the sanitary facilities -- which on Earth probably would be well stocked with heavily thumbed Readers Digests.
But last night, NASA acknowledged Comedy Central comedian Stephen Colbert's landslide win in the space agency's online, vote-on-a-name contest for the node.
In a statement, NASA's associate administrator for space operations, noted that "we don't typically name US space station hardware after living people." And, well, technically, that remains true. But you can't miss the acronym.
Hear ye, hear ye. All rise. The treadmill shall henceforth be known as the Combined Operational Load Bearing External Resistance Treadmill. NASA even offered up a "mission" patch (see above) for the treadmill. The big question: Will they sell that alongside other mission patches in NASA center gift shops? (I'm not holding my breath.)
It was a politic end to a corner the agency painted itself into by opening the contest to "write-in" names. You can read more about that here. Although the rules were clear about the kind of name NASA sought (invoking a spirit of exploration) and about its role as final arbiter regardless of the contest's outcome, that got lost in the stampede citizens of Colbert Nation took part in to boost their man to the top of the list. Over at The Space Review, editor Jeff Foust points out odd results from another attempt by NASA to keep its missions in the public eye.
---