Ivory femme fatale redraws timeline for early Stone Age art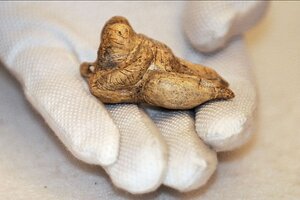 AP Photo/Daniel Maurer
Hey, Yogi! The, er, physically ample female may have in fact vocalized -- at least when it comes to early Stone Age art.
Scientists in Europe have uncovered a female form carved from ivory, and say it's the oldest figurine of a human ever found. The researchers say it's at least 5,000 years older than the previous record-holders, which range from 25,000 and 29,000 years old, give or take.
The statuette stands just over 2-1/4 inches tall, and sports a small carved loop where a head would be. The loop is polished, as if the carving had been worn on a leather thong or thick thread. You can find a summary of the formal scientific results, which appear in this week's issue of Nature, here.
Nicholas Conard, an archaeologist at the University of Tübingen in Germany, assembled the figurine from six segments he uncovered at a dig in Hohle Fels Cave in Germany. The cave is in Germany's Schwabian region, not far from the Danube Valley.
To Dr. Conard, the find demands a major overhaul of conventional wisdom regarding the origins of art during this period, as modern humans replaced Neanderthals on the continent. He points out that until now, the art objects from this region of Germany during this early period have consisted of small animal figures and some animal-human hybrids. Representations of human females were thought to come much later.
---