Ancient lake shore on Mars: Primo spot for hunting signs of past life?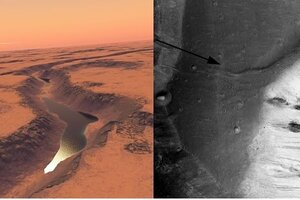 Left: G. Di Achille, University of Colorado. Right:NASA/JPL/University of Arizona
Turn the clock back 3.4 billion years, transplant North America's Lake Champlain to the floor of Mars' Shalbatana Vallis, and you have a pretty good idea of what a team of scientists says it has uncovered on the red planet.
The find suggests that substantial amounts of water pooled and persisted on the martian surface hundreds of millions of years later than many planetary scientists currently estimate, the team says.
Moreover, the images the steam studies bear witness to a vast delta that would have formed when water gushed into the valley to form the lake. This would have been prime real estate for microbes, based on what biologists have learned about microbial ecosystems buried within Earth's river deltas.
Images from NASA's Mars Reconnaissance Orbiter's HiRISE camera and topographical data from the Mars Global Surveyor orbiter's laser altimeter sealed the deal, according to team leader Gaetano Di Achille. He's a planetary scientist at the University of Colorado at Boulder. The data, he says, provided "the first unambiguous evidence of shorelines on the surface of Mars."
The formal report of the results has been accepted for publication in the journal Geophysical Research Letters.
By the way, it's hard to get an idea of what the team saw from the images we can post here. For a closer look -- a much closer look -- download and explore the full images from the HiRISE web site.
---