A new way for nations to divvy up greenhouse-gas cuts?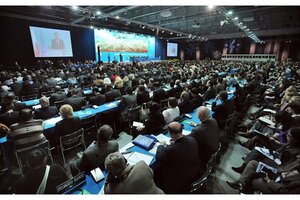 AP Photo/Alik Keplicz/File
If you want to see how hard it will be to get the next round of cuts in greenhouse gases in any new global climate agreement, look at what happened today in Italy.
The good news: The G-8 countries declared that they "recognise the broad scientific view that the increase in global average temperature above pre-industrial levels ought not to exceed 2°C." The communique is available in pdf form on the G-8 meeting's website.
The statement is not exactly a hard and fast commitment to shoot for 2 degrees, but at least it acknowledges that the science points to that level as a kind of climatological line in the sand.
But climate talks between developed and developing countries, aimed at feeding into the broader UN negotiating process, fizzled out. Developing countries were unconvinced that their richer counterparts were willing to commit to rigorous mid-term emissions goals in exchange for developing countries backing a global reduction in emissions of 50 percent below 1990 levels by 2050 -- a goal that would require significant participation by developing countries.
Now along comes a team of researchers from the US, the Netherlands, and Italy that offers what it sees as a more equitable approach to divvying up emissions-reduction duties, at least for now.
---
Follow Stories Like This
Get the Monitor stories you care about delivered to your inbox.