Get ready for the Perseids, a summer shower of a different sort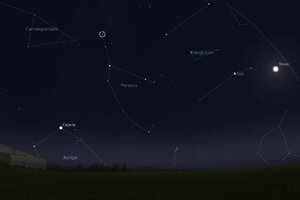 Sky map courtesy of Stellarium planetarium software
If you haven't done so already, mark your sky-watcher calendar for the morning of Wednesday, Aug. 12 -- just after midnight to dawn. The Perseid meteor shower is back. And it peaks during the wee hours Wednesday morning.
The meteors making up the shower are, in effect, the exhaust plume from comet 109/Swift-Tuttle. As the comet enters the inner solar system and makes its swing around the sun, it heats up, its ice pockets turn from solid to gas (do not pass liquid), and they spew dust and rock chunks that loosen as the ice sublimates. Long after it exits the inner solar system, its debris trail remains for Earth to pass through.
The folks over at the University of Texas's McDonald Observatory have some great advice for watching the display. To save you a mouse click, here's the short list:
• If you can, drive to a (safe) dark spot outside your city or town to reduce light pollution (get there early enough to allow your eyes to adjust to the dark).
• Make sure you have a low horizon to the northeast. This is where the constellation Perseus will rise (see the sky chart at the top of the page.)
• Either lay on a blanket or a chaise lounge you've bright just for this purpose (you plan-ahead person, you) and position yourself so the horizon is just within your peripheral vision. Since Perseus moves across the night sky, be ready to tweak your viewing position as it does so.
• As the folks at the observatory say: "Treat meteor watching like you would the 4th of July fireworks. Pack comfortable chairs, bug spray, food and drinks, blankets, plus a red-filtered flashlight for reading maps and charts without ruining your night vision. Binoculars are not necessary. Your eyes will do just fine."
---