Buy software? How passé.
Next high-tech revolution may be 'cloud computing.'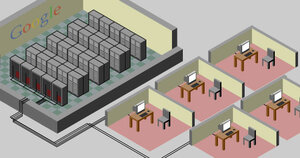 Jacob Turcottte
The personal-computer revolution for many Americans began in 1984, when their TV screens glowed with the surreal image of a woman in red track shoes, hurling a sledgehammer to shatter a huge video screen of a man preaching conformity.
That Super Bowl ad, Apple's dig at the IBM PC, suggested a big idea: that personal computers could liberate users from the tyranny of centralized mainframe computers, which controlled and limited what they could do.
Nearly a quarter century later, a counterrevolution is in full swing. Known as "cloud computing," it offers liberation of a different sort: the ability to access and share data anytime and anywhere via everything from a cellphone to a full-blown computer. But achieving that vision requires reliance on networks run by huge centralized clusters of computers reminiscent of the mainframes of the 1970s. This battle of visions is playing out in the corporate strategies of the world's largest high-tech companies, with billions of dollars of revenue at stake.
So far, the counterrevolutionaries seem to have the momentum.
"The 1970s are back, break out your bell bottoms," says David Utter, a staff writer for the technology website WebPro News. "It's not going away – the desktop model [of the late 20th century]. But there are going to be a lot of people, particularly younger ones [and] people who are mobile, who are going to embrace the online model a lot more."
Which side you're on depends on where your software and data sits. In the traditional model, people buy software and load it on the hard drives of their personal computers. In the new era, users' software and data sits on the network.
---