Review: Online maps can jog better running routes
Websites help runners keep track of the miles they run.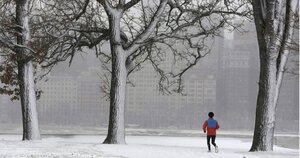 Charles Rex Arbogast/AP
The search company responsible for countless hours of sitting by a computer screen can help you burn calories, too.
To plan jogging routes and track mileage, running enthusiasts are turning to independently produced sites that tap online mapping services from Google Inc. and its rivals. As someone who has logged every mile on a spreadsheet since December 2000 (10,146.7 and counting) these free tools help fuel my obsession with how far I've run.
After trying several of the Web services during a recent West Coast trip, I found there's no substitute for simplicity.
I've long been a fan of Gmap Pedometer, created as a hobby by a first-time marathoner in Hoboken, N.J. Although I have since come across flashier tools packed with more features, I returned to Gmap out of frustration each time.
Despite its sparse look, Gmap is highly functional and easy to use.
You simply trace your route on a Google map as if you were leaving bread crumbs, clicking your mouse to place markers along your intended path. Gmap connects the markers in order, and automatically calculates the distance.
A new "automatic routes" feature helps improve accuracy by reflecting the added distance along curvy paths, even when you drop your bread crumbs in a straight line.
With Gmap's help, I met two objectives for my final run during a visit to Vancouver. I needed to cap it at four miles, and I wanted to visit three venues for the 2010 Winter Games – the closest I'd ever get to the Olympics.
---