ThisMoment captures personal scenes with a social sheen
New website rolls pictures, stories, even YouTube clips into customized slideshows.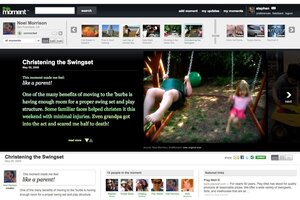 Screenshot from thisMoment.com
Vince Broady wanted to remember a special night out with his two pre-teen sons – the night that they first went to a movie together as just "the guys." It was a special showing of the classic action movie "Mad Max," one of Mr. Broady's favorite flicks.
Afterward, Mr. Broady went to the social media website thisMoment.com to record the night. He quickly created a "moment," a slick slideshow using photos of the restaurant they'd eaten at and the movie theater that they'd attend that he'd found online. Then he added a clip of his favorite scene from the movie (which he grabbed from YouTube). He topped off his presentation with a snapshot he'd take of his boys posing in front of the car driven by "Mad Max" in the movie.
Broady, who's the founder and CEO of the free site thisMoment, which officially launched today, says he thinks people are ready to use social media to record real meaningful "moments," not just share "this is what I'm doing right now" trivia.
"ThisMoment is designed to let people save and share the moments of their lives by giving them a really simple but extremely powerful tool that enables them to bring together all different kinds of media around these moments," says Broady, an entrepreneur who previously developed and ran entertainment websites for CNET and Yahoo.
When viewing a thisMoment slideshow, readers scroll down through the text, however brief or long, and scroll across the screen for related images and videos. Makers of thisMoment "moments" can connect directly with their other social media sites like Facebook, Flickr, or YouTube to easily pull all their online material together."
---