National Star Wars Day: Our top 10 Star Wars quotes
May 4th is the unofficial National Star Wars Day, which means it's time to break out our favorite Star Wars quotes.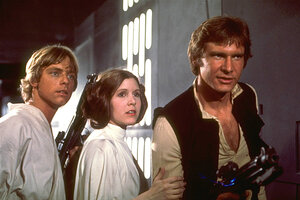 AP/20th Century Fox/File
According to Lucasfilm, National Star Wars Day officially occurs on May 25, the anniversary of the release of the epic space opera in 1977. But May 25 is already taken up by Towel Day, a tribute to "Hitchhiker's Guide to the Galaxy" author Douglas Adams.
The last thing we need is another feud between sci-fi fans, and we can never pass up the opportunity for a cheap pun. So we've decided to join the rebels with the day's salutation: May the 4th be with you!
Here are our favorite Star Wars quotes:
10. "Aaaaaaargh!" - Chewbacca, "A New Hope"
Han Solo's hirsute co-pilot may have been denied his medal at the end of "A New Hope," but he did get the final line of the movie. Chewie's voice was mostly remixed growls from Tarik, a black bear who lived in a zoo in San Jose, Calif.
---