Steve Jobs preparing to revolutionize the newspaper business?
Steve Jobs and Apple are rumored to be preparing a newspaper subscription service. Could Steve Jobs shake up another industry?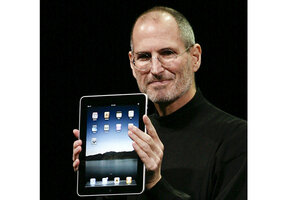 RYAN ANSON/AFP/FILE
iPods revolutionized the music industry. iPhones changed cellphones forever. Could the iPad revamp the newspaper business? It will if Steve Jobs has his way.
That's the word from the San Jose Mercury News, which reported today that Apple will unveil a newspaper subscription service for the iPad.
"Roger Fidler, head of digital publishing at the Donald W. Reynolds Journalism Institute in Columbia, Mo., said Apple probably will take a 30 percent cut of all subscriptions sold through the company's online App Store, and as much as 40 percent of the advertising revenue from publications' apps," says the article. The Mercury News did not explain if Mr. Fidler was guessing at those numbers or if he was speaking from a point of authority. (Most of the article relied on anonymous sources.)
---