Verizon iPhone: Three important steps before you upgrade
In less than 24 hours, Verizon customers can pre-order the iPhone. Tempted? Here are three tips for making the transition to a Verizon iPhone.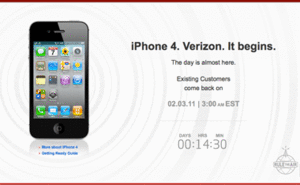 Verizon
This is the second in a series of posts about one writer's quest for a Verizon iPhone and the helpful tips he learns along the way. Check out the first entry here.
With less than 24 hours before you can order your new Verizon iPhone, are you ready to make the change?
When you upgrade your phone with your mobile carrier, you just go to the store and they transfer everything over to your new phone. Simple, right? With the iPhone for Verizon upgrade, not so simple. Fortunately, Verizon provides a set of upgrade instructions, complete with the opportunity to subscribe to additional Verizon Wireless services. But not to worry, you can get ready for low or no cost.
Transfer your contacts
You can use Backup Assistant, a subscription product that is now included in the service. Of course, it doesn't work on some models of Android, Blackberry, Palm, or my Nokia. Be sure to check the list of phones that it supports. If you're not on the list, try to sync your contacts with your desktop or laptop. Or, get out your pen and start copying. Cost to you: Free.
---