Electric cars 101: What does MPGe mean, exactly?
Electric and dual-fuel cars need a new calculation: MPGe. But the EPA's new measurement doesn't tell the whole story.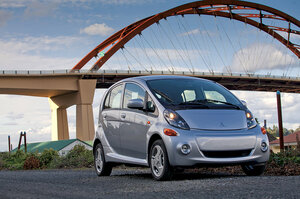 PRNewsFoto
Next month, Mitsubishi will introduce a subcompact car with some hefty bragging rights. The 2012 Mitsubishi i stands as America's most fuel-efficient car, at 126 miles per gallon in city driving, according to the Environmental Protection Agency (EPA).
Such impressive fuel economy seemed impossible a few years ago. (The 2012 Toyota Prius gets "only" 52 m.p.g.) And, in fact, 126 m.p.g. will still be impossible when the car goes on sale in January.
You see, the Mitsubishi i is an all-electric vehicle, so there aren't really any gallons for it to gulp. A closer look at the EPA window sticker reveals that it's actually 126 miles per gallon equivalent (MPGe). The EPA rolled out this new term to help translate electric-car efficiency into a figure that most Americans understand.
It's a metric that's embraced by the auto industry, but it has some science geeks wrinkling their noses.
"We had a lot of our technical people that were excited about using kilowatts per hour or per mile, but when you go and talk to the general public, they are very familiar with m.p.g. and they love m.p.g," says Margo Oge, director of the EPA's Office of Transportation and Air Quality. "So we came up with MPGe."
---