If Apple TV is real, here's how it should work
An Apple TV set could revolutionize the television market, if designed correctly. Technology Review's Will Knight considers what could make the Apple TV great.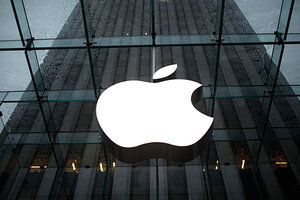 Mike Segar/Reuters/File
Rumor has it Apple is about to start making the the world's favorite gadget.
In a note sent to clients earlier this week, Piper Jaffray analyst (and longtime Apple TV enthusiast) Gene Munster, said he'd spoken to a major television component maker that has been contacted by Apple about the capabilities of its display components.
Some people wonder whether Apple would really choose to enter a market that's so crowded, and that offers such slim margins for manufacturers. But similar doubts were raised before Apple launched the iPhone and, of course, it went on to take over that market, primarily by delivering a remarkably simple and intuitive user interface and experience.
With any luck, Apple will bring similar innovation to the living room. The television interface is a huge mess, and a huge opportunity. Instead of a multitude of remote controls for different devices and several poorly thought-out graphical interfaces, imagine a simple, intuitive way to navigate the lineup for an evening's entertainment. Even die-hard Apple holdouts would surely welcome that.
I can't think of a better way to do this than putting Siri, Apple's intelligent assistant for the iPhone, into a television. I've been experimenting with Siri for a while, and talking to experts about how it works. It seems perfectly suited to a relatively narrow range of tasks like searching for shows, scheduling recordings, and answering simple questions the week's schedule. By syncing with iCloud, a Siri-enabled TV could even be used to dictate e-mails, create calendar entries, and set reminders.
---