Facebook again streamlines privacy settings. Will it help the average user?
Facebook has instituted a series of new, simplified privacy controls.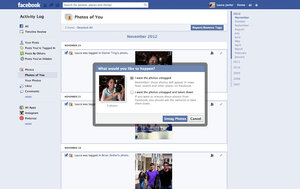 Facebook
Three years ago, after a spat of negative press, Facebook overhauled – and greatly simplified – its privacy settings. This week, the social networking giant has instituted another set of sweeping privacy changes, which it said would simplify how users control the content that appears in their feed.
"We believe that the better you understand who can see the things you share, the better your experience on Facebook can be," Facebook's Samuel W. Lessin wrote in a press release. "We continue to strive toward three main goals: bringing controls in context where you share, helping you understand what appears where as you use Facebook, and providing tools to help you act on content you don't like."
Among the changes: A series of shortcuts to privacy controls (in the past, you had to click to a separate page); a tool that streamlines the photo untagging or removal process; and a rejiggered Activity Log, where users can more quickly scan changes to their profile or new wall posts. The updated controls will go live by the end of the year. So hey, will the changes help the average user?
---