Is a 128GB 'Ultimate' Apple iPad on the way?
One new report indicates that a larger-capacity iPad could ship sometime in the next few months.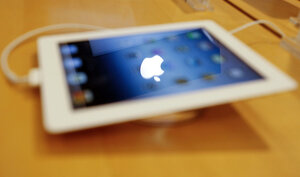 Reuters
Time was when Apple released a new tablet computer every year. The original iPad was followed roughly 12 months later by the iPad 2 and a year after that came the "new iPad," otherwise known as the iPad 3. But last year, Apple upended the annual schedule, and launched the fourth-generation iPad the same year as the third-generation iPad. We say all of this as a kind of pre-amble to the news today that Apple is preparing some kind of "Ultimate iPad." 
According to 9 to 5 Mac, which cites SKUs obtained from a "high-profile US retailer," the "Ultimate iPad" may simply be a¬†128GB version of the current iPad 'Äď in other words, not a completely redesigned iPad, but an iPad with a¬†colossal amount of memory. (The largest iPad currently gets "only" 64GB.)
The SKUs provided by 9 to 5 Mac show two price points: $799 and $929 'Äď possibly the cost of the Wi-Fi-only and LTE versions.¬†
There are other explanations, of course, as Mark Gurman of 9 to 5 Mac points out. For instance, Apple could be "adding a new fourth-generation iPad SKU that is specific to government agencies, retail, or for other internal uses (this is something Apple has done before with other product lines). It is also possible that this model includes a feature (or features) other than 128GB of storage."
A tantalizing idea, that last one. 
Predictably, Apple isn't commenting on the rumors and no launch events are scheduled. 
Over at ZDNet, Adrian Kingsley-Hughes doesn't doubt that Apple will, at some point, release an "Ultimate iPad." But he's extremely skeptical that the device will ship anytime soon. 
"I have little doubt that a 128GB iPad is indeed in the pipeline, but that it will be a new model 'Äď perhaps the iPad 5 'Äď and that its debut will be concurrent with the elimination of the 16GB model," Kingsley-Hughes writes. "This would allow Apple to retail the existing pricing structure for the iPads, with the 128GB model costing $699 for the Wi-Fi model, and $829 for the Wi-Fi + Cellular model."¬†
For more tech news, follow us on Twitter: @CSMHorizonsBlog
---