Android chief Andy Rubin will step down
Rubin, a co-founder of Android, will be replaced by Chrome chief Sundar Pichai.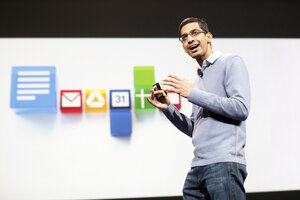 Reuters
Android co-founder Andy Rubin has decided to "hand over the reins" of the mobile OS to Chrome chief Sundar Pichai, Google announced today.
Mr. Pichai is currently tasked with Chrome and a range of Chrome OS products at Google; his next job will be to oversee the most-used mobile operating system in the world. Mr. Rubin, meanwhile, will "start a new chapter at Google," Google CEO Larry Page wrote on the company blog. Exactly what Rubin will do next is unclear, although there's some speculation that he could go to the top-secret Google X Lab.
"Sundar has a talent for creating products that are technically excellent yet easy to use – and he loves a big bet," Mr. Page wrote in the post. "Take Chrome, for example. In 2008, people asked whether the world really needed another browser. Today Chrome has hundreds of millions of happy users and is growing fast thanks to its speed, simplicity and security."
Page added that he expected Pichai to "double down" on Android in coming months.
So what's behind Rubin's departure? Well, over at Wired, Ryan Tate says that it has a lot to do with a "tightening" of "company focus" – the same thing that may have driven Marissa Mayer to Yahoo. Here's Tate:
---