BlackBerry CEO calls iPhone interface outdated
Days after Apple releases its "Why iPhone" ads, BlackBerry's CEO says the iPhone's user interface needs a face lift.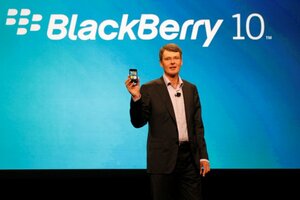 Reinhold Matay/AP/File
As the iPhone slips further behind Android in terms of market share, BlackBerry CEO Thorsten Heins notes that the iPhone might want to make some innovative strives if it aims to capture the hearts of smart-phone users as it once did.
Mr. Heins said in an interview with the Australian Financial Review that the iPhone is too outdated to survive as the state-of-the-art smart phone, according to the Wall Street Journal's AllThingsD blog.
"The rate of innovation is so high in our industry that if you don't innovate at that speed you can be replaced pretty quickly," he told AFR. "The user interface on the iPhone, with all due respect for what this invention was all about, is now five years old."
If anyone knows the challenges of a highly competitive, innovation-driven market, it's Heins. After all, it was BlackBerry that was largely replaced by the iPhone six years ago. BlackBerry has only recently begun to resurge as viable competition in the mobile market.
While Heins does not make a direct comparison, he seems to warn that the iPhone could go the way of old BlackBerry phones if it does not make changes to its product.
The popularity of Android phones (particularly Samsung's) has raised questions about the future of the iPhone in the smart phone market. Samsung's Galaxy S3 replaced the iPhone as the world's best selling iPhone last year. The hype surrounding the Galaxy S4, which was released last week, created speculation about whether or not the new model will be an iPhone-killer.
The Galaxy S4 has fared well in the latest reviews. Forbes described the phone as "amazing" and "innovative," pointing to the smart phone's ability to connect to multiple Samsung devices including TVs. CNET says the Galaxy S4 came up short, but that it still raises the bar for Samsung's competitors.
However, Apple seems to be taking the defensive. MacWorld reports that Apple just launched its "Why iPhone" campaign.
---