Google Glass: An early look at Google's next-gen spectacles
Google Glass likely won't arrive until 2014. But tester units of Google's portable hardware are already making the rounds among a specially-selected crowd.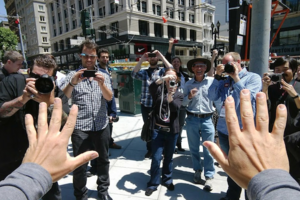 Google
Today at the Google I/O conference, Timothy Jordan, a Senior Developer Advocate for Google, gave a talk on developing software for Google Glass. The event attracted overflow crowds – "doors were locked as the room reached capacity and another location packed for a live stream," according to ZDNet. And no wonder. With the exception of the original iPad, we can't think of a piece of portable tech hardware that's generated this much advance hype.
But here's a question: Is Google Glass any good? Well, this week the first hands-on tests of the high-tech specs are starting to hit the Web, and the answer appears to be a qualified yes. (An important caveat: These early impressions and reviews are based on test versions of the glasses. Google will likely change the device before it goes into wide release next year.)
"My chief observation," writes Edward C. Baig of USA Today, "is that while Glass still has elements of the unfinished project that it is, you can't help but be impressed by what it can already do, and can't help but be seduced by its boundless possibilities. In other words, it's really cool."
---