What does Yahoo want with Tumblr?
Yahoo has confirmed that it will acquire Tumblr for $1.1 billion – most of which will be paid in cash.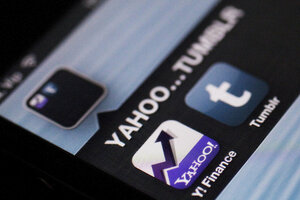 Reuters
Yahoo has confirmed that it will pay approximately $1.1 billion, mostly in cash, to acquire the microblogging platform Tumblr. According to reps for Yahoo, the deal will likely close in the second half of the year. In a press release, Yahoo CEO Marissa Mayer sought to allay the concerns of the millions of regular Tumblr users, some of whom reportedly fled the site after news of acquisition first began circulating on Sunday afternoon.
"On many levels, Tumblr and Yahoo! couldn't be more different, but, at the same time, they couldn't be more complementary," Ms. Meyer said. "Yahoo is the Internet's original media network. Tumblr is the Internet's fastest-growing media frenzy. Both companies are homes for brands – established and emerging. And, fundamentally, Tumblr and Yahoo! are both all about users, design, and finding surprise and inspiration amidst the everyday."
---