The Last of Us review roundup: How does Naughty Dog's latest stack up?
The Last of Us review scores just hit, shortly before the PlayStation 3 game goes on sale. Here's what critics are saying.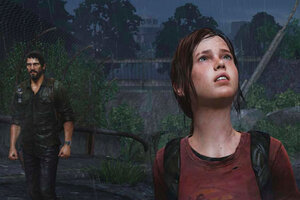 Sony
Naughty Dog, the California studio behind the critically-acclaimed adventure series Uncharted, will have a new game on shelves next week. Like Uncharted, The Last of Us is an exclusive for the Sony PlayStation 3. But unlike Uncharted, The Last of Us is a post-apocalyptic zombie tale, set in a world where a fungus has converted most the world's population into blood-thirsty... things.
The heroes of The Last of Us are Joel and his teenage companion, Ellie. They must make their way across the ruined United States, in the process battling other survivors and infected humans.
So how good is The Last of Us? Read on and find out.
The opening shot
"It's the classic journey into the west, the pioneer's tale – but turned on its head, because this anti-Western isn't about the birth of a nation. It's about the death of one," writes Oli Welsh in a rave review over at Eurogamer. "This melancholy twist is just one of several things that lifts The Last of Us far above its clichéd basis. The others are the outstanding engineering and art and sound design, the fine direction and performances, the touching relationship of the two leads and the tough, tense action gameplay."
The gameplay
"Sometimes you'll go up against fungus-blind zombies that use echolocation to track you; other times you'll take on human bandits who use their regular ol' eyesight. Depending on your play-style, you might get into frequent firefights, which feel appropriately sloppy and chaotic," writes Kirk Hamilton of Kotaku. "You also might sneak past a good amount of the enemies. Ammunition is scarce, as are precious health-restoring medical supplies, so retreat is often the best option. Fortunately, thanks to the cautious and intelligent enemies, it's almost always possible to retreat and regroup, shaking your pursuers and re-engaging from a new angle."
---