Google pressured to increase privacy in Europe
French and Spanish watchdog groups are pressuring Google to change the company's data privacy policy.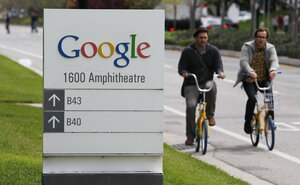 AP Photo/Paul Sakuma
French and Spanish watchdog groups are putting more pressure on Google to increase users' privacy protection in response to the company's perceived failure to comply with European data privacy standards.
France's data protection agency, CNIL, gave Google three months to change its privacy policies, threatening the company with a 150,000 Euro ($198,000) fine for violating the French Data Protection Act of 1979.
Spain's data watchdog, AEPD, told Google it will be fined between 40,000 Euros and 300,000 Euros ($52,000 and $400,000) for violating privacy laws and storing large amounts of user data, according to a report by Reuters.
"By the end of July, all the authorities within the [EU data protection] task force will have taken coercive action against Google," says CNIL president Isabelle Falque-Pierrotin, according to Reuters.
In March of last year, Google announced that it would aggregate its more than 60 privacy policies into one, and combine user data from all Google services including YouTube, Google Blogger, and Google Plus. The European Union warned Google both before the new privacy settings went in to place and then later in October 2012. France and Spain claim that Google made no meaningful changes to its policy.
---