Winklevoss twins plan for bitcoin fund
The Winklevoss twins are trying to make bitcoin mainstream by filing for a public IPO.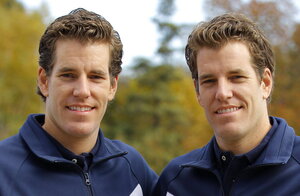 Adam Hunger/Reuters/File
Two young investors are trying to make the digital currency bitcoin mainstream.
Cameron and Tyler Winklevoss – perhaps best known for suing Facebook CEO Mark Zuckerberg, claiming he stole their idea for a social network site – announced they filed paperwork with the Securities and Exchange Commission that would allow investors to sell shares in the Winklevoss Bitcoin Trust.
After settling with Mr. Zuckerberg, the Winklevoss twins went on to become Olympic rowers, attend Harvard Business School and then invested in several start-up projects. And pending SEC approval, the brothers will become trailblazers in the bitcoin frontier.
The Winklevoss Bitcoin Trust will lend investors the opportunity to interact with the bitcoin currency by purchasing shares in the brother's bitcoin trust. The trust will then use this money to buy bitcoins.
"The trust brings bitcoin to Main Street and mainstream investors to bitcoin," said Tyler Winklevoss. "It eliminates the friction of buying and reduces the risks associated with storing bitcoin while offering similar investment attributes to direct ownership," he tells the New York Times.
There are currently about 1 million share offerings, which cost about $20 each. Each share will be worth a fraction of a bitcoin. The exact worth of the share in bitcoins, however, all depends on the day.
And therein is bitcoin's unique problem and benefit: It is not fixed to a central bank or a government, and, thus does not have a stable exchange rate.
---