Lumia 1020: Next Windows phone from Nokia could pack 41-megapixel punch
On Thursday, Nokia will likely unveil the high-powered Lumia 1020 smartphone, which is likely to ship with a 41-megapixel camera.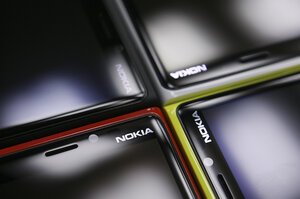 Reuters
On Thursday morning, at a press event in New York, Nokia is expected to unveil a new Windows Phone-powered smartphone.
For a long time, Nokia and Microsoft were staying mum on the precise identity of the device, but a few days ahead of the official reveal, we've already received a few hints, from leaked photos and videos to the Flickr feed of Joe Belfiore, a Microsoft Windows Phone manager. As The Verge notes, Belfiore recently posted a range of sample shots from Windows Phone devices to Flickr, including two images marked "Nokia Lumia 1020."
So yes, that's probably the name of the forthcoming Nokia/Microsoft collaboration. The smartphone, which has been tested under the codename EOS, is likely to be a top-shelf affair: plenty of RAM, a snappy processor, the Windows Phone 8 operating system, a sleek chassis and a whopping 41-megapixel camera, of the same type that debuted on the Symbian-powered PureView 808 last year.
---