Kindle Fire HDX keeps Amazon's low price, adds extra features
Amazon's new tablet offering ups the hardware and feature game, plus keeps its barely-profitable price in hopes Kindle Fire HDX users will buy more Amazon services.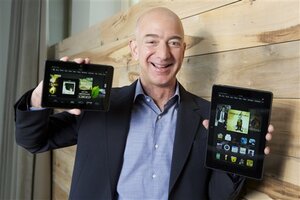 Invision
Amazon is looking to beat out Apple, Google, and niche manufacturers like Tesco with the new generation of its tablet, the Kindle Fire.
Amazon released three new versions of its Kindle Fire at a press conference Wednesday: an updated Kindle Fire HD, and two sizes of the new Kindle Fire HDX, which adds impressive features to the existing model. But Amazon's real feat is its ability to keep tablet prices so low it barely profits from device sales, yet makes money off features that direct customers to online Amazon services.
Hardware-wise, the improvements are standard but keep the Kindle Fire on par with competitors. The Kindle Fire HDX, which comes in a 7-inch or 8.9-inch screen size, has the highest definition screen and the fastest processor currently on the tablet market, all in a compact size – the 8.9-inch version only weighs 0.82 pounds. The 8.9-inch version also has a rear-facing 8-megapixel camera. The devices will also run on the new Fire OS 3.0 "Mojito" software, an Android software configured for the Kindle.
The unique improvements to the Kindle Fire HDX, however, are more in services and features, which is where Amazon has excelled in the past. Amazon often sells its tablets below manufacturing cost then reaps profits from people using their services, such as e-books, shopping, and online TV and movies.
"We want to make money when people use our devices, not when they buy our devices," said Amazon Chief Executive Jeff Bezos in an interview with the Wall Street Journal.
The Kindle Fire HDX offers the ability to download movies and TV shows from Prime for later viewing, revert to a low-power mode when reading e-books, and send videos to a video game console or smart TV with the Amazon Instant Video app. There will also be a new feature called "X-Ray for Music" that allows customers to find out what song is playing in a TV show or movie and then download it from the Amazon store.
---