Fitbit Force brings high-tech fitness tracking to the treadmill
The Fitbit Force tracks your fitness, then syncs the data to your mobile device so you know when and how to step up your workout game. But will it get lost in the sea of new wearable tech releases?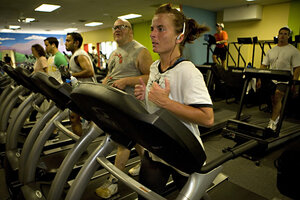 Melanie Stetson Freeman/Staff/File
Your morning jog just got a little more tech-savvy.
Fitbit, a California-based fitness technology company, released the Fitbit Force smart watch Thursday. With a high-definition screen and tracking that wirelessly syncs with your smart phone, Fitbit takes a plunge into the increasingly competitive smart watch world. The device goes on sale today.
The Fitbit Force connects workout stats to the wireless world, a feature that is quickly becoming the norm. The watch tracks stats from the basics (distance covered and steps taken) to the advanced (floors climbed and number of "active minutes" – amount of time you've walked or jogged) and allows you to view the information on your watch or sync it through Bluetooth to an app on your iPhone, Android, or computer. This categorizes and organizes the data so you can see how you have done over time (and when you need to kick your workout into high gear).
The device has a small OLED screen, a water-resistant black or teal band, and a seven-day battery life. It will retail for $129, available now online and in a few weeks at retailers such as Amazon, Best Buy, and Target.
---