Coin: Finally, a solution to the overpacked mega-wallet
Coin, a young Silicon Valley start-up, plans to release a slim device that holds data from up to eight credit or debit cards.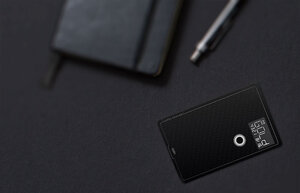 Coin
"This isn't just my wallet. It's an organizer, a memory, and an old friend," George Costanza says in one of the most famous episodes of "Seinfeld." Jerry doesn't miss a beat: "Well, your friend is morbidly obese," he responds.
The gag is funny precisely because it rang so true: How many of us have to had wrangle with a wallet or purse that seems to be overflowing with cash, coins, receipts, and cards? 
Enter Coin, a new California start-up backed by the Y Combinator incubator. Coin is essentially a card cruncher: It stores information from up to eight cards – which can include credit, debit, gift, or membership cards, according to The Verge – and allows users to swipe it in ATMs or readers. (Coin says loyalty and benefits programs on your cards won't be affected.) You toggle from one card to another with the circular button on the face of the device. 
Coin plans to begin selling the cards sometime next year. Assuming, of course, the company can raise enough cash. As reps for the company point out on the official site, "creating and manufacturing new devices is expensive." In an effort to drum up some early cash, Coin is gearing up for a kind of crowd-funding campaign, via $50 pre-orders. (Once the device is officially rolled out, it will cost $100.)Â 
"We will directly use the crowd-funded campaign's money to do manufacturing to buy the parts and to get the production lines ready so we can start producing higher quantities," Kanishk Parashar, the CEO and founder of Coin, told CNET in an interview this week. 
So will Coin catch on among consumers? 
Well, VentureBeat's Devindra Hardawar, for one, is optimistic. 
"Who wouldn't want to slim down all of the cards they're carrying?" he writes. "It's also worth noting that most consumers won't have to change their habits much when using Coin, something that's also holding mobile payments back. Even Square and PayPal, which don't rely on near-field communications, requires you to completely rethink how you interact with cashiers when checking out." 
---