Are alternative fuels reliving the 1980s?
Today's slumping oil prices may undermine viability of alt-fuel programs – again.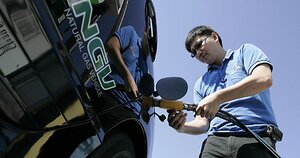 Marcio Jose Sanchez/AP
Tumbling gas-pump prices make motorists smile, but not Peter Vanderzee. They remind him how falling oil costs sank his effort to unshackle the United States from Middle East oil two decades ago.
As project manager for two large alternative-energy projects under President Carter's US Synthetic Fuels program launched in 1980, Mr. Vanderzee was pushing his team to make methanol from coal for auto fuel.
But in 1985, just as his technology was starting to produce results, oil plummeted. In today's inflation-adjusted dollars, oil went from $53 a barrel to $28, with pump prices falling from $2.20 a gallon to $1.60. The next year, President Reagan pulled the plug on the US Synfuels program.
"It was a huge letdown," Vanderzee recalls. "We had the technology ready to go. But Mideast crude oil suppliers decided the US was serious about our program and just didn't want the US making alternatives to oil. So they pumped more oil and lowered the price."
Oil prices last week hovered just over $60 a barrel after peaking around $140 this summer. Will today's falling oil prices also bury fledgling efforts to convert the US auto fleet from gas guzzling SUVs into fuel-sipping hybrids? Will investors still want to invest in advanced biofuels? Will the new president slow the push for energy security?
"If I were Saudi Arabia and I wanted to undermine alternative energy," says Robert Wescott, former chief economist for the Pres­ident's Council of Economic Advisers, "my optimal pricing strategy would be $100 per barrel for the first year, second year, third year, and fourth – and drop it to $10 on the fifth year." Why?
---