Solar-hydrogen house in Florida combines new, old
It may look like an out-of-place throwback, but the Off-Grid, Zero Emissions Building has a futuristic purpose.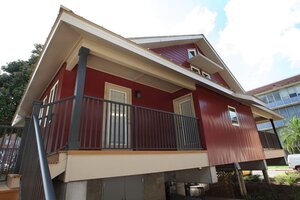 Phil Coale/AP
The elevated floor, tall ceilings, steeply pitched roof and broad overhangs are borrowed from the traditional "cracker house" that relied on shade and air movement for relief from Florida's sultry subtropical climate.
A pair of magnolia trees, dark red siding, ceiling fans, bamboo flooring, and rustic wooden beams salvaged from a Georgia barn add to the inviting atmosphere of the little house in the middle of Florida State University's brick-and-mortar campus.
It may look like an out-of-place throwback, but the $575,000 Off-Grid, Zero Emissions Building — OGZEB — has a futuristic purpose. Its mission is to test potential solutions to the world's energy and climate change problems by combining old tricks with cutting-edge technology, including a unique solar-hydrogen experiment.
"What we're trying to do is create the building of tomorrow with a lot of the feel of today," says project manager Justin Kramer. "If nobody wanted to live in it, what's the point?"
Like a 19th century cracker house, there are no power lines.
Solar panels on the roof are one of the few hints that the two-bedroom home is not a relic of the past. Solar panels have been popping up on rooftops around the country this year, in part because of an expanded federal subsidy that pays for 30 percent of the cost. States, including Florida, offer additional tax credits and incentives that further drive down the cost.
With Florida State's off-grid house, part of the electrical energy they produce is used to turn water into hydrogen for power when the sun isn't shining.
---