Searching for Tiger Woods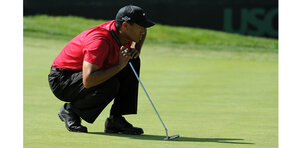 Louis Lopez/Cal Sport Media/NEWSCOM
Big week for Tiger Woods. First he clinches a sudden-death victory against Rocco Mediate in the US Open (Rocco versus the Tiger! Sounds more like boxing match than a golf tournament). Now there's word that he'll sit out the rest of the season due to knee surgery.
Whenever a star pops into the news, fans start asking questions – and these queries are not always apropos to why the celebrity is famous in the first place. How much does Mr. Woods rake in each year? Have you seen the size of his house!? Is Tiger his real name? Such pressing questions demand immediate answers, and there's no faster source of knowledge (accurate or otherwise) than online search engines.
Buzz, Yahoo's bubbly news pages, published a list of the top non-golf things that people wanted to know about the putting master. These candid questions offer a quirky peek into society's fascination with celebrity. Here are the Top 5 search terms (and I'll save you some time by posting the answers as well):
1. "Tiger Woods House" – Which do you want to know about? He has a $65 million estate in the Hamptons, a $40 million estate on Jupiter Island, Fla., a 155-foot-yacht (that's an abode by any definition), and a palace to decorate his golf course in Dubai, according to the New York Post.
---