Digital college textbooks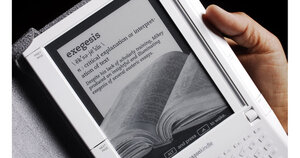 NEWSCOM
Just as Apple got millions of college students to leave their CD collections at home each September in favor of a tiny iPod, Amazon is trying to convince undergrads that there's no reason to lug around a backpack full of textbooks. Just buy a Kindle.
This fall, Princeton University Press will begin publishing Kindle-edition textbooks. It's on a short list of printing houses that are testing the e-textbook waters. (Kindle has also snagged Yale, Oxford, and the University of California.) But Princeton is the only to attempt a Kindle-first launch, offering Robert Shiller's new economics book "The Subprime Solution" on the Amazon electronic reader two weeks before students can buy a hard copy.
Kindle, which went on sale in November, attracted a lot of buzz. The device was backordered for weeks and now is on sale at 10 percent off.
---