A flashy first for Esquire magazine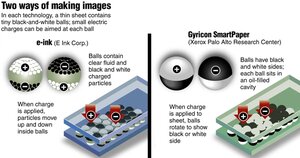 © 2008 MCT
"The 21st Century Begins Now," proclaims the October issue of Esquire. To make its point, the magazine will come with a battery-powered digital cover that flashes the tag line.
This animated brush with science fiction uses admittedly simple technology, but packages it in a way that no publisher has yet pulled off. The cover comes embedded with an E Ink display, the same setup used by the Amazon Kindle book reader. But rather than settle for the Kindle's boxy frame, Esquire commissioned itty-bitty batteries that will tuck into its paper-thin front page.
The men's fashion magazine has tinkered with this idea since 2000, and editor David Granger told The New York Times it's finally gotten it right.
First Esquire had to make a six-figure investment to hire an engineer in China to develop a battery small enough to be inserted in the magazine cover. The batteries and the display case are manufactured and put together in China. They are shipped to Texas and on to Mexico, where the device is inserted by hand into each magazine. The issues will then be shipped via trucks, which will be refrigerated to preserve the batteries, to the magazine's distributor in Glazer, Ky.
---