New jetpack jumps one step closer to our high-flying dreams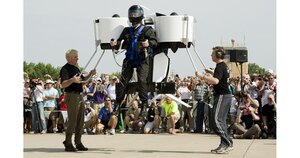 Morry Gash/AP
New Zealand inventor Glenn Martin blasted into the news yesterday with the unveiling of "the world's first practical jetpack." Showing off his creation at the Experimental Aircraft Association's AirVenture show in Oshkosh, Wisc., Mr. Martin strapped his 16-year-old son into the piano-sized pack and let him hover three feet above the ground. The crowd went wild.
Martin's device looks like two massive tea cups but roars louder than a pack of angry leafblowers. While the 200-horsepower jetpack is undeniably exciting (check out videos here and here), Martin's device still represents an early step in achieving the high-flying dreams of Hollywood jetpacks.
For one, it's not really a jetpack: The mechanisms run more like a car engine than an airplane. The petrol-powered piston engine uses fans to blast air downward, lifting the pilot vertically. The pack then directs the flow to move forward.
---