Update: Playing the Apple rumor game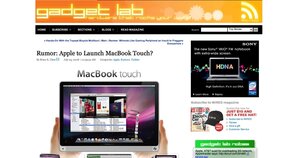 Apple has scheduled its next secret announcement for September 9. The blogs are already buzzing. Our only clues as to what dream machine Steve Jobs has up his sleeve are the cryptic taglines "Let's Rock" and "Playing Soon."
This was enough to spark speculation that Apple will unveil a new iPod.
"It's got to be new iPods. That's 100 percent certain," Needham & Company analyst Charles Wolf told Reuters. "The only question I cannot answer is whether they will also do new MacBooks."
Wired's Gadget Lab guesses it could be anything from a "sideways-widescreen iPod nano" to "revisions to the iPod touch."
Somehow, Mr. Jobs has a day planner that can launch a thousand headlines. Even Obama and McCain have trouble getting a news cycle out of an announcement to make an announcement.
---