Climate change could be 'irreversible' for 1,000 years? Gulp!
(Read article summary)
Rather than a call to throw up one's hands in discouragement, the results show the importance of acting quickly to reduce emissions and so limit the very long-lived effects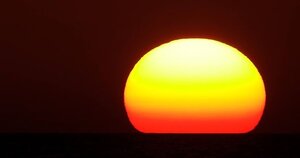 NEWSCOM/McPHOTO
Irreversible is a tough word, especially when applied to the effects of global warming.
But physics alone suggests that even now, the changes that humans are imposing on Earths' climate system will last for at least 1,000 years and likely far longer. That's the gist of a new study by an international team of researchers led by Susan Solomon, an atmospheric chemist at the National Oceanic and Atmospheric Administration's Earth System Research Lab in Boulder, Colo.
Dr. Solomon, who has enjoyed a long, scientifically productive career, isn't known for hyperbole. So when she and colleagues use the word "irreversible" over time spans measured in millenniums, it's clear a great deal of thought and data lay behind it.
In some respects, the conclusions are not new. But the emphasis is. In his new book "The Long Thaw," for instance, University of Chicago climate scientist David Archer lays out a case that at least 10 percent of the CO2 that human industrial activity is pumping into the air will affect climate 100,000 years from now.
Why the lock-in? Unlike other compounds humans have added to their environment, newly added CO2 persists in the atmosphere for centuries. It's a bit like a bank account: The balance grows as long as the owner keeps making deposits and never takes anything out, never mind earning interest. In the atmosphere's case, withdrawals -- at least non-technological ones -- take place over geologic time scales.
---