California heads for a third dry year in a row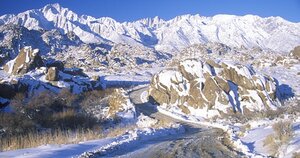 Newscom
"It's imperative for Californians to conserve water immediately at home and in their businesses."
That's the message California's Department of Water Resources Director Lester Snow left Golden Staters on Jan. 29 as the state released its latest information on how much water this winter's snowpack holds.
It isn't pretty. The water content of the snow piled on the Sierra Nevada Mountains and elsewhere in the state sits at 61 percent of normal. The wet season has only two months left. "We may be at the start of the worst California drought in modern history," Mr. Snow said in a statement.
Even when the mountains see an above average snowpack, as they did last year, weather patterns during the following spring can leave as state high and dry. Last year, California experienced the driest spring on record, leading to the second dry "water year" in a row.
The National Oceanic and Atmospheric Administration's Climate Prediction Center offers little solace. It projects drought to persist or intensify across virtually all of California and much of Nevada through April. Similar conditions poke their heads into southeastern Oregon and western Utah.
---